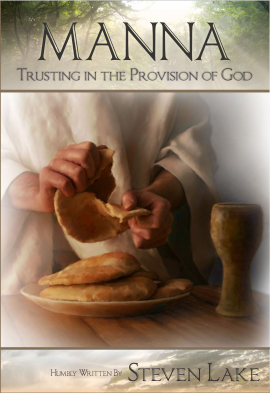 Manna - Trusting in the Provision of God
"Manna" is a word that brings a variety of thoughts to one's mind; things such as provision, blessing and life's daily supply. But what is the Manna of God? Is it just a miraculous food source that occurred during one brief period in ancient history, or is it something more, something miraculous, perhaps even for today? In this book you will learn about and see the incredible provision of God in your life, how He provides for you, the evidences that His provision is always true, as well as the things in your life which can hinder this incredible blessing.

John 15:4-6 (KJV) - Abide in me, and I in you. As the branch cannot bear fruit of itself, except it abide in the vine; no more can ye, except ye abide in me. I am the vine, ye are the branches: He that abideth in me, and I in him, the same bringeth forth much fruit: for without me ye can do nothing. If a man abide not in me, he is cast forth as a branch, and is withered; and men gather them, and cast them into the fire, and they are burned.
Series:
Christian Books and Pocket Guides
Release Date:
October 2013
ISBN:
978-1301338436 (ebook)
978-1940155241 (print)
B0774VT73S (audiobook)
Price:
Ebook: FREE!, Print: $5.99, Audiobook: FREE!
Genre:
Christian Teaching
Size:
21,280 words (ebook), 76 pages (print), 2:06:20 (audiobook)
Keywords:
God, Bible, Healing, Growth, Sin, Blessings, Provision, Manna
Available at these locations:
Note: Click on the Audiobook link below for pricing on Audiobook for this booklet as they're offering different prices based on if you have an Audible subscription, Prime, or you're just a regular customer.
Kindle (ie, .mobi) versions are also available at the Smashwords link above!