Latest Blog
Faith To Move Mountains
Mon, 17 Apr 2017 09:32:02
A young man once sat quietly in his dinning room looking at a table full of bills before him. On them were stamped many things, including "past due", "last notice", and "shutoff notice". It wasn't as if he refused to pay them. Deep, deep down in his heart he wanted to be able to pay them all, to write "paid in full" on all of them. But despite his best efforts he had nothing. No job, no income, nothing. Try as he might to get work, what little he could get was only temporary and provided just barely enough to put food on the table.
After finishing his daily bible study he gathered the bills together in a pile, placed his hands upon them, and prayed, "Jesus, you know my situation. You know I can't pay these bills as I have no power within myself to do so. Therefore I place these before you at your feet and plead with you, come to my rescue. Save me, Lord. I am in desperate need and I bring this great burden before you, and ask, dearest Savior, to free me, to loose me from the bonds of these debts. Only you can do this, Lord. Please, show your name mightily before all who see me each day. For I am Your witness, Your hands and feet who goes out into the world showing them that You love them. But how can I show them Your truth power and strength if you do not move greatly in my life? If I am left to wither and dry up like a leaf ripped from its branch, then how can they see Your true strength if they do not see it displayed in me!? Lord, make your name mighty before those around me by rescuing me from this prison of debt. Lord, save me from this trial of grievous degree. Show Yourself mighty and pluck me up from this pit of debt and set me on higher ground. And in honor of what you are about to do, I praise and thank You for all that you are about to do. In your name I pray, Lord Jesus, my Savior, Amen."
With that the young man got up from the table, gathered up the pile of bills and put them back in the little box in which all of his incoming bills were stored. Just then a knock came at his door. He opened it to find the landlord staring at him from the other side, a scowl on her face. She shoved an envelope into his chest, and said, "Don't be late again. It causes me too much unnecessary paperwork." She then turned and stormed away. The young man looked at her in confusion, uncertain what to make of what just happened. He then looked down at the letter in his hand and wondered what was in it. His name was scribbled on the front of the plain white envelope, but nothing else. He slowly opened the envelope and pulled out a letter inside. Unfolding it he began to read. Slowly his eyes began to grow wider as he did. Eventually his eyes fell upon one sentence that nearly made his heart stop in surprise.
"As of today, all present and past due rent is now paid in full and your account has been returned to good standing."
He blinked a ...(read more)

Rate this post: (0)
Viewed 68 Times
WELCOME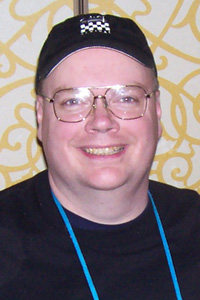 Welcome to Realms of Imagination, the website for author and developer Steven Lake! Listed here is a collection of my thoughts, writings, and other things created! So please feel free to wander around, explore the place, learn more about me and see the many things I have to offer!
MY NOVELS
| | |
| --- | --- |
| | Come check out the wide and amazing colection of books that I've written, from sci-fi and fantasy to survival and adventure, and so much more! There's something for everyone! So click here for more info! |