Latest Blog
What does it mean to be saved?
Thu, 19 Nov 2015 08:05:14
Have you ever wondered, what are people talking about when they say that you must be saved if you wish to go to Heaven, or at the very least avoid Hell? In other words, what must one do to be saved? Well, to understand that, one must first go back to the source of our problem. Namely, our sin.
Our Sin
To understand what makes a person a Christian, we first have to go back to the source of our problem. Namely, our sin. We, as human beings, are depraved, sinful creatures. To understand the depth of one's sin is to understand the sheer, unfathomable depravity of even the best we have to offer before God. Yes, to God, even our best, most righteous, most exceptional of all good deeds are evil, vile, disgusting and depraved.
Isaiah 64:6 (KJV) - "But we are all as an unclean thing, and all our righteousnesses are as filthy rags; and we all do fade as a leaf; and our iniquities, like the wind, have taken us away."
To understand this verse properly we must first go much, much deeper than simply the words given above. The reason why is because, to the modern person, the term "filthy rags" doesn't elicit the same reaction of utter and total revulsion the original author intended to convey. In the original Greek, the word for "filthy rags" is "ayd" which refers to a woman's "period" or menstrual flux, and was the most vile, disgusting, horrific, gut wrenching thing the Jewish people of the time knew. Especially those with extensive knowledge of the Levitical code. To others however, different imagery was used. For example, when addressing the church at Philippi, Paul chose to use the word "skubalon", which is Greek for dung or excrement. This is seen in Philippians 3:5-8.
Philippians 3:5-8 (KJV) - "Circumcised the eighth day, of the stock of Israel, of the tribe of Benjamin, an Hebrew of the Hebrews; as touching the law, a Pharisee; Concerning zeal, persecuting the church; touching the righteousness which is in the law, blameless. But what things were gain to me, those I counted loss for Christ. Yea doubtless, and I count all things but loss for the excellency of the knowledge of Christ Jesus my Lord: for whom I have suffered the loss of all things, and do count them but dung, that I may win Christ,"
So if you picture for yourself the most vile, wretched, disgusting, horrid, putrid thing you can imagine, you're only just beginning to understand the full measure of how utterly evil and depraved our good deeds are before God. Now, if our "good" deeds are that horrible, imagine just how utterly vile and repulsive our sins and rebellion are in God's eyes. Suddenly even our best deeds no longer look so good, do they? This in turn proves the simple fact that we, in and of ourselves, can't ev ...(read more)

Rate this post: (0)
Viewed 477 Times
WELCOME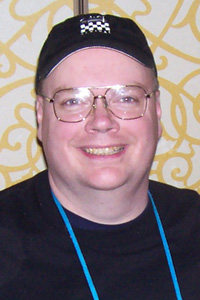 Welcome to Realms of Imagination, the website for author and developer Steven Lake! Listed here is a collection of my thoughts, writings, and other things created! So please feel free to wander around, explore the place, learn more about me and see the many things I have to offer!
MY NOVELS
| | |
| --- | --- |
| | Come check out the wide and amazing colection of books that I've written, from sci-fi and fantasy to survival and adventure, and so much more! There's something for everyone! So click here for more info! |